BAG LADY: My First Viv Pickle Party
Moms nights out are few and far between, at least for this mama. So when N. asked me to accompany her to a Viv Pickle party, I seized the opportunity for some female bonding and the chance to design my very own handbag. Viv Pickle is the name of a custom-handbag store in Old City, Philadelphia.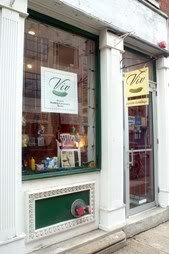 Now, I am not a handbag/purse person. I could keep my stuff in a recycled plastic bag if it weren't so cumbersome.  In fact, for a long time my son's Bob the Builder backpack did double duty as my purse and diaper bag.  When my son outgrew the backpack, I moved on to the regulation black leather "mommy bag," (you know the kind) containing the essentials: wallet, cell phone, lip gloss, toys, crayons and candy (anything to amuse the young ones on the verge of a public breakdown). For the night's moms-only outing you'd think I'd bring a cute little purse with just my things, but it was all too last minute so I grabbed the black bag containing my stuff and yes, diapers (even if I was going out without my baby boy!) 
The party was hosted by someone I had never met, a mom N. knew because their sons played tee ball together. I felt a little weird but our host was so gracious, she even gave us a tour of her fab house. As munchies were laid out for the lot of us, over a dozen ladies including some teenage daughters, we perused the basic bag shapes and sample Viv Pickle merchandise. We then scanned the many fabric swatch books and debated which designs looked better, fashionable etc. After selecting a shape (i.e. bucket, messenger, clutch etc.) and fabric, we sat with the consultant to select the handles and lining, as well as the optional features (zippers, pockets, trim etc.). The consultant was very helpful. And in no time, we had paid the fees and filled out the paperwork (the bags are less than a $100, prices vary depending on how you customize).
With that done, N and I decided to make a night of it and went out for coffee only to find that most places were closed at 9:00pm. It was after all a Monday night and this being suburbia, we didn't have much choice. We ended up at Starbucks where we were sure we could chat over coffee only to find a bunch of teens hanging out because it was Open Mic Night. We tried to blend in but our mommy bags gave us away so we retreated to the minivan, coffees in hand, and savored our mommy time in the parking lot. We chatted as only girl friends can chat and remembered the last time we had gone out together without our kids was that pole dancing party many months ago. It made us smile, but too soon it was time to go.
My Viv Pickle handbag comes in 7 to 8 weeks but I sure hope I don't have to wait as long for another moms' night out. — MT
*Viv Pickle is located at  21 N. 3rd Street, Philadelphia, PA19106, Tel. 215.922.5904